Nag Champa is a popular incense fragrance that has been around for many years. Its origin can be traced back to India, where it was used for religious ceremonies, meditation, and relaxation. The name Nag Champa is derived from the Sanskrit words "nag" and "champa," which mean "snake" and "flower," respectively. In this article, we will explore the history of Nag Champa, including its origins, traditional use, and its evolution into a popular fragrance around the world.
Origins of Nag Champa
Nag Champa has been around for centuries and has its roots in Hindu and Buddhist traditions. It is believed that the fragrance was first created in the monasteries of Tibet, where it was used for meditation and spiritual practices. The monks would blend various herbs, spices, and resins to create a unique scent that would help them focus their minds and enhance their spiritual experience.
The fragrance was later introduced to India, where it gained popularity among Hindus and Buddhists. The incense was made using a blend of sandalwood, halmaddi (a type of resin), and various herbs and spices, including patchouli, clove, and vetiver. These ingredients were ground into a paste and then rolled onto bamboo sticks. The resulting incense was then dried in the sun and used for religious ceremonies, meditation, and relaxation.
Traditional Use of Nag Champa
In India, Nag Champa has long been used in temples and homes for religious ceremonies and rituals. The fragrance is believed to be purifying and is said to help create a calming atmosphere. It is often burned during yoga and meditation practices, as well as during prayer and other spiritual practices.
Nag Champa is also used for aromatherapy and is said to have a range of healing properties. It is believed to help reduce stress and anxiety, improve concentration, and enhance spiritual awareness. Some also believe that the fragrance can help alleviate symptoms of depression and insomnia.
In addition to its spiritual and medicinal uses, Nag Champa is also used for its pleasant fragrance. The scent is warm and spicy, with notes of sandalwood, patchouli, and other spices. The fragrance is often used to create a relaxing and welcoming atmosphere in homes and businesses.
Evolution of Nag Champa
In the 1960s, Nag Champa gained popularity outside of India, thanks in part to the rise of the hippie movement. The fragrance became associated with the counterculture and was often used in meditation and yoga practices. It also became popular as a general air freshener and room fragrance.
During this time, many companies began producing Nag Champa incense, often using synthetic ingredients instead of the traditional natural ingredients. Some of these companies also began adding other fragrances to their Nag Champa blends, such as vanilla, lavender, and musk.
One of the most well-known companies producing Nag Champa incense is Satya Sai Baba. The company was founded in the 1960s by a spiritual leader named Satya Sai Baba. The company's Nag Champa incense quickly gained popularity around the world and is now sold in more than 180 countries.
Satya Sai Baba's Nag Champa incense is made using traditional methods and natural ingredients, including halmaddi, sandalwood, and other herbs and spices. The incense is hand-rolled onto bamboo sticks and is then dried in the sun. The resulting incense is known for its high quality and authentic fragrance.
Today, Nag Champa incense is widely available around the world and is used for a variety of purposes. It is still popular for religious ceremonies and meditation practices, as well as for its pleasant fragrance.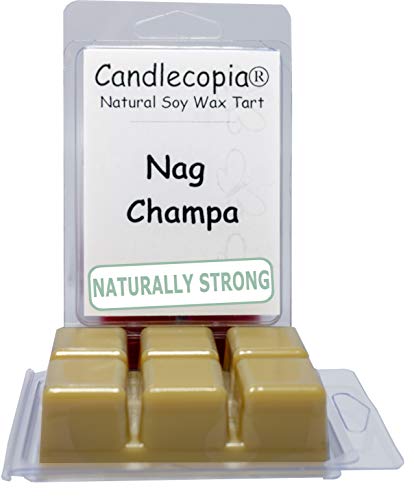 Nag Champa Wax Melts by Candlecopia®, 2 Pack
Woody notes similar to patchouli, with touches of powder, musk, amber, and vanilla. Each 3.2 ounce wax tart contains 6 cubes. For best results, melt 2 cubes at a time. Go ahead, mix and match fragrance cubes for your own unique scents!